INGREDIENTS
2 sheets puff pastry, thawed (5.3 oz each)
15 mini hot dogs – precooked (follow the package instruction)
2 Tablespoons shredded Mozzarella cheese
1 egg
1 Tablespoon water
Sesame seed (optional)

(A) Bull-Dog honey mustard sauce

3 Tablespoons 'BULL-DOG' VEGETABLE & FRUIT SAUCE (TONKATSU SAUCE)
1 Tablespoon grain mustard
2 Tablespoons of honey

(B) Bull-Dog honey ketchup sauce

1 Tablespoon 'BULL-DOG' WORCESTERSHIRE SAUCE
2 Tablespoons of tomato ketchup
1 Tablespoon honey
STEPS
Preheat oven to 425 degrees F.
Mix (A) in a bowl, divide into 2 portions then set aside.
Mix (B) in a bowl, set aside.
Beat 1 egg with 1 Tablespoon of water in a small bowl.
Cut each puff pastry sheet into 9 even rectangles.
Place a mini hotdog on a rectangle puff pastry, brush with (A) Bull-Dog honey mustard sauce, and top with shred Mozzarella cheese. Brush the edge of puff pastry rectangles with egg mixture and roll it up. Brush the tops of rolled pastry with egg mixture and sprinkle with sesame seed (optional).
Place the rolled pastries on a baking sheet lined with parchment paper.
Bake for about 15 minutes, or until puffed and golden.
Serve with the remaining of (A) Bull-Dog honey mustard and (B) Bull-Dog honey ketchup sauce.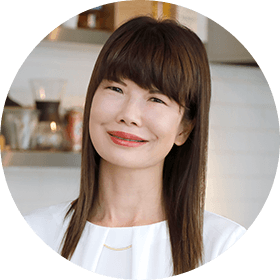 Shu-Hui Chang
Shu has been working as a cooking instructor in Tokyo and a caterer in New York City. Shu is French trained in the International Culinary Centre in New York City with working experience in Narcissa Restaurant at the Standard Hotel in New York City. So far, she has lived in the US, UK, Japan, and Taiwan.
She is excited to be in the Bull-Dog Sauce team to create healthy, simple, delicious classics and modern dishes with the amazing Japanese origin Bull-Dog sauces.
She hopes that you would be inspired to try Bull-Dog sauces on her recipes.
Instagram
Return to recipe list