STEPS
Preheat oven 300 degrees F
Tear the cleaned kale into desired size and put the torn kale into a large bowl add the olive oil, chopped garlic and 'BULL-DOG' VEGETABLE & FRUIT SAUCE (TONKATSU SAUCE) massage into the kale and place onto a baking pan lined with parchment paper or aluminum foil trying not to overlap.
Bake for 20 minutes or until the kale is crispy but not burned.
If needed season with salt and pepper.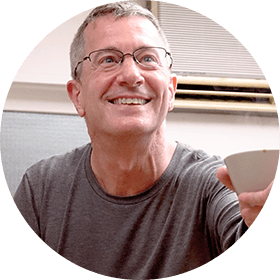 Robert Marsh,
I am a classically trained professional chef from California.
I've worked as an Executive Chef for 20 years in restaurant in both California and Hawaii.
For over 10 years I've been working with Niki, Nikis kitchen and her students
Teaching them both the techniques and recipes I have learned through the years being a chef. Using the ingredients readily in Japan I have come up with recipes that are both delicious and healthy.
So I hope you'll enjoy theses recipes as much as I have in introducing them to you.
Instagram
Return to recipe list