STEPS
Patty mix

Wrap the tofu in paper towels. Place a plate with 2 soup cans on top to remove the excess moisture from the tofu for 15- 20 minutes.
After grating the carrot and onion squeeze out the excess liquid.
Crumble the tofu into a medium size bowl and add the rest of the ingredients.
Mix well if the mixture is to soft add more panko if needed.
Adjust seasoning with salt and pepper. Form tofu mixture into 4-6 patties. Heat a sauté pan with 2 tablespoons of oil and cook patties over medium high heat until brown on both sides 4-5 minutes per side.
Loco moco sauce

In a sauce pan heat the butter add the sliced onion and caramelize over medium heat. When the onions are caramelized add the sliced shiitake mushrooms cook until soft.
When the mushroom are soft add the flour cook over low heat for 2-3 minutes. Slowly add the stock to prevent the mixture does not become lumpy. After the stock is incorporated add the 'BULL-DOG' VEGETABLE & FRUIT SAUCE (TONKATSU SAUCE) and 'BULL-DOG'
WORCESTERSHIRE SAUCE. Simmer over medium low heat for 4-5 minutes adjust the seasoning with salt and pepper.
To plate add ¾ -1 cup of rice on a plate place the patty on top and top it with a fried egg and add sauce on top and garnish with thinly sliced green onions.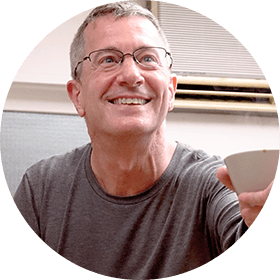 Robert Marsh,
I am a classically trained professional chef from California.
I've worked as an Executive Chef for 20 years in restaurant in both California and Hawaii.
For over 10 years I've been working with Niki, Nikis kitchen and her students
Teaching them both the techniques and recipes I have learned through the years being a chef. Using the ingredients readily in Japan I have come up with recipes that are both delicious and healthy.
So I hope you'll enjoy theses recipes as much as I have in introducing them to you.
Instagram
Return to recipe list