INGREDIENTS
1-2 Tablespoons olive oil
6 Tablespoons 'BULL-DOG' VEGETABLE & FRUIT SAUCE (TONKATSU SAUCE)
1 yellow onion, chopped
1 chili, deseeded and chopped
2 garlic cloves, peeled and minced
1 teaspoon cumin
¼ teaspoon paprika
¼ teaspoon of chili powder
2 mixed color of peppers, deseeded and sliced
2 cans of chopped tomatoes (14.10 ounces each)
About ½ cup water
6 eggs
1 teaspoon of salt, and pepper, to taste
3 Tablespoons yogurt (Greek yogurt used)
Cilantro or parsley, roughly chopped
Fresh cherry tomatoes, chili (optional)
Sea salt (optional)
Some bread like pita bread, baguette to accompany with Shakshuka
STEPS
Sauté onion with oil in a large pan over a medium heat. Add chili and garlic.
Add cumin, paprika and chill powder, and cook until the onion is soft for about 3-5 minutes. Add peppers to the pan, and cook until soft and sticky for about 5-10 minutes.
Add tomatoes, 'BULL-DOG' VEGETABLE & FRUIT SAUCE (TONKATSU SAUCE) and water. Turn the heat to medium low until thickened and reduced for about 8-10 minutes. Season to taste.
Use a spoon to make 6 holes in the sauce. Add an egg to each hole, then cover with a lid and cook for 3-5 minutes over medium heat until eggs are to your desired doneness.
Add yogurt and chopped fresh cherry tomatoes, chili (optional), and sprinkle cilantro or parsley and sea salt (optional). Serve with bread like pita bread, baguette.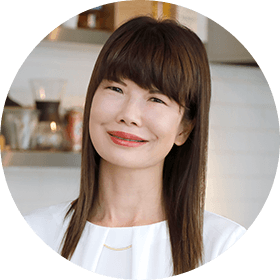 Shu-Hui Chang
Shu has been working as a cooking instructor in Tokyo and a caterer in New York City. Shu is French trained in the International Culinary Centre in New York City with working experience in Narcissa Restaurant at the Standard Hotel in New York City. So far, she has lived in the US, UK, Japan, and Taiwan.
She is excited to be in the Bull-Dog Sauce team to create healthy, simple, delicious classics and modern dishes with the amazing Japanese origin Bull-Dog sauces.
She hopes that you would be inspired to try Bull-Dog sauces on her recipes.
Instagram
Return to recipe list