INGREDIENTS
4 salmon filet 4-6 oz
2 Tablespoons Honey
2 Tablespoons Orange juice
1 Tablespoon Lemon juice
1 Tablespoon Sesame oil
1 clove finely chopped garlic
1 teaspoon grated ginger
¼ teaspoon ground black pepper
Pinch of salt
STEPS
Mix all the ingredients together and reserve enough marinade to sauce the cooked salmon. Pour the remaining marinade over the salmon and marinate for 1-2 hour.
Line a baking pan with foil and spray with nonstick spray or brush with oil. Place the salmon skin side down on the pan.
Bake in a 425 degrees F oven on the middle shelf for 10-15 minutes. Serve with steamed rice and vegetables.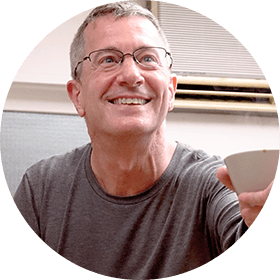 Robert Marsh,
I am a classically trained professional chef from California.
I've worked as an Executive Chef for 20 years in restaurant in both California and Hawaii.
For over 10 years I've been working with Niki, Nikis kitchen and her students
Teaching them both the techniques and recipes I have learned through the years being a chef. Using the ingredients readily in Japan I have come up with recipes that are both delicious and healthy.
So I hope you'll enjoy theses recipes as much as I have in introducing them to you.
Instagram
Return to recipe list