INGREDIENTS
1 block firm or extra-firm tofu
½ cup corn starch
1 cup vegetable oil
2 Tablespoons honey
1 Tablespoon white sesame seeds
STEPS
Drain and cut tofu into bite size triangle pieces.
Coat tofu with corn starch and fry in hot oil until all sides are crispy.
While tofu is frying, mix together 'BULL-DOG' VEGETABLE & FRUIT SAUCE (TONKATSU SAUCE), honey and sesame seeds in a large bowl.
Add fried tofu in the sauce, and toss to cover.
Serve on top of salad, rice, tacos, burger buns, etc.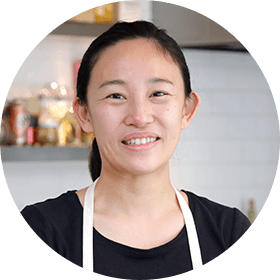 Sachi
Born in Tokyo and raised in the US, Sachi appreciates culinary contrast and balance between the two cultures. Currently ambitious to share her food journey through teaching American cooking to Tokyoites.
Instagram
Return to recipe list