INGREDIENTS
2 Tablespoons olive oil
1 onion, chopped
4 cloves garlic, minced
1 pound lean ground beef
3 Tablespoons chili powder
1 Tablespoon ground cumin
1 teaspoon oregano
1 can (15 oz) kidney beans, drained
1 can (14.5 oz) diced tomatoes
1 cup water
1 bay leaf
Salt and black pepper, as needed
Shredded cheddar cheese
Sour cream
Sliced green onions
Cilantro
STEPS
Heat a large heavy bottomed pan. When the pan is heated, add olive oil. Saute garlic and onion over medium heat until they are soft and translucent.
Add ground beef and continue sautéing for few minutes until the meat is slightly browned.
Add chili powder, cumin oregano and saute for a minute.
Add drained kidney beans and stir. Add diced tomatoes, water, and 'BULL-DOG' VEGETABLE & FRUIT SAUCE (TONKATSU SAUCE), then bring to simmer.
Simmer for 30 minutes until the sauce reduces to chili consistency. Adjust seasoning with salt and black pepper if necessary.
Serve topped with shredded cheddar cheese, sour cream, greed onions and cilantro. Serve by itself, or with chips or rice if preferred.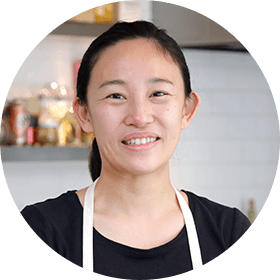 Sachi
Born in Tokyo and raised in the US, Sachi appreciates culinary contrast and balance between the two cultures. Currently ambitious to share her food journey through teaching American cooking to Tokyoites.
Instagram
Return to recipe list