INGREDIENTS
1-2 Tablespoons butter or olive oil
5 Tablespoons 'BULL-DOG' VEGETABLE & FRUIT SAUCE (TONKATSU SAUCE)
2 cups of bite size cauliflower florets
1 yellow onion, chopped
3 teaspoons ginger, peeled and minced
2 garlic cloves, peeled and minced
6 teaspoons garam masala powder
1 teaspoon of cinnamon
½ teaspoon chili flakes
¼ teaspoon turmeric
¼ teaspoon coriander powder
3-4 Tablespoons honey, to taste
1 can chickpeas, rinsed and drained (drained weight 8.5 ounces)
2 cans chopped tomatoes (14.10 ounces each)
About 1cup water
1 can coconut milk (14.10 ounces)
Salt and pepper, to taste
Cilantro or parsley – roughly chopped (optional)
Some naan, roti or rice to accompany with this curry
STEPS
Sauté onion with oil/butter in a pan over medium high heat until soft.
Add ginger and garlic, and sauté for about 30 seconds.
Add garam masala powder, cinnamon, chili flakes, turmeric and coriander powder, and stir to mix for about 1 minute.
Add cauliflower florets to the onion mix, and cook until lightly brown for about 2 minutes.
Add tomatoes, 'BULL-DOG' VEGETABLE & FRUIT SAUCE (TONKATSU SAUCE), and cook for 1-2 minutes.
Add chickpeas and water, and bring it to boil then reduce to medium heat.
When cauliflower is slightly tender, add coconut milk, mix well, and cook for about 2-3 minutes, or to bring it to the desired consistency. Add honey to taste.
Season to taste, and top curry with cilantro or parsley (optional). Serve with naan, or roti, or rice.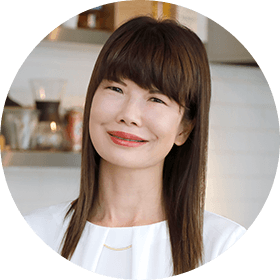 Shu-Hui Chang
Shu has been working as a cooking instructor in Tokyo and a caterer in New York City. Shu is French trained in the International Culinary Centre in New York City with working experience in Narcissa Restaurant at the Standard Hotel in New York City. So far, she has lived in the US, UK, Japan, and Taiwan.
She is excited to be in the Bull-Dog Sauce team to create healthy, simple, delicious classics and modern dishes with the amazing Japanese origin Bull-Dog sauces.
She hopes that you would be inspired to try Bull-Dog sauces on her recipes.
Instagram
Return to recipe list