INGREDIENTS
3 cans (1 can 16 oz.) White navy beans canned drained
1 ea Yellow onion medium dice
½ # (225g) Bacon diced
2 Tablespoons Apple cider vinegar
½ cup Brown sugar
2 teaspoons Dry mustard
Salt and pepper each to taste
STEPS
Open and drain canned beans save liquid. In separate pot cook bacon until ¾render add onions cook until translucent.
Add the rest of the ingredients and add enough cooking liquid to cover.
Adjust seasoning cover and cook in low oven 325 degrees F for 60 minutes.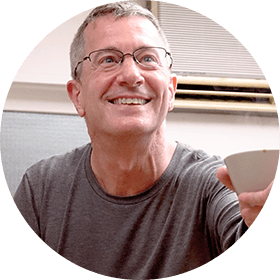 Robert Marsh,
I am a classically trained professional chef from California.
I've worked as an Executive Chef for 20 years in restaurant in both California and Hawaii.
For over 10 years I've been working with Niki, Nikis kitchen and her students
Teaching them both the techniques and recipes I have learned through the years being a chef. Using the ingredients readily in Japan I have come up with recipes that are both delicious and healthy.
So I hope you'll enjoy theses recipes as much as I have in introducing them to you.
Instagram
Return to recipe list