INGREDIENTS
1 Pork Baby Back Ribs
Salt and Black Pepper, as needed
¼ Cup Ketchup
1 Tablespoon Maple Syrup
1 Teaspoon Smoked Paprika
½ Teaspoon Garlic Powder
* Hot Sauce as needed
STEPS
Preheat the oven to 350 degrees F
Remove the membrane off ribs, and generously salt and pepper on both sides. Place ribs on an oven tray, covered with foil and bake for 2 hours at 350 degrees F.
While ribs are baking, mix together the rest of the ingredients together in a bowl.
Take ribs out of the oven, uncover, and spread the top with the sauce.
Increase the oven temperature to 470 degrees F and bake ribs uncovered until the edges char slightly, about 10-15 minutes.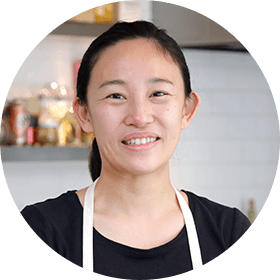 Sachi
Born in Tokyo and raised in the US, Sachi appreciates culinary contrast and balance between the two cultures. Currently ambitious to share her food journey through teaching American cooking to Tokyoites.
Instagram
Return to recipe list