INGREDIENTS
1 ½ # (680g) Ground beef
½ # (225g) Ground pork
1 ea medium size Yellow onion finely diced
2 colves Garlic chopped finely
2 Tablespoon Olive oil
2 Tablespoon Italian parsley finely chopped
½ cup Meatloaf sauce
1 Tablespoon 'BULL-DOG' WORCESTERSHIRE SAUCE
1 ea Eggs
½ - ¾ cup Panko or bread crumbs
1 teaspoon Salt
½ teaspoon Black pepper ground
Bacon strips enough to cover

For Meatloaf Sauce

3 Tablespoon Brown sugar
1 teaspoon Dry mustard
1 teaspoon 'BULL-DOG' WORCESTERSHIRE SAUCE
If necessary Chicken or Beef stock
salt and pepper each to taste
STEPS
In a small saucepan heat Meatloaf sauce ingredients until the sugar is dissolved. If the sauce is to thick thin it out with water or stock (chicken or beef) set a side.
In a sauté pan sauté the onions and garlic until soft add Meatloaf sauce cook 2 minutes and set aside to cool.
In a medium size mixing bowl add all the ingredients except the bacon and mix well.
In a deep baking dish form the mixture into a loaf shape and glaze the top with Meatloaf sauce, cover the top with bacon.
Add ¾ cup of water to the pan. Cover the pan with foil and put into preheated 350 degrees F oven for 40 minutes.
When the 40 minutes are up remove the foil and cook for another 15 to 20 minutes until the bacon is cooked and the internal temp reaches 155 degrees F
Reaches 155 degrees F. Remove and let rest 10 minutes.
Drizzle Meatloaf sauce over the Meatloaf. Pour the leftover Meatloaf sauce in a small bowl or jar and bring it to the table in case anyone wants to add more. we typically serve.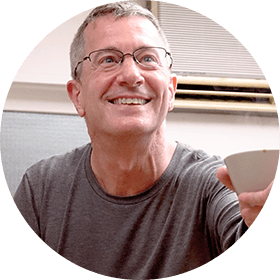 Robert Marsh,
I am a classically trained professional chef from California.
I've worked as an Executive Chef for 20 years in restaurant in both California and Hawaii.
For over 10 years I've been working with Niki, Nikis kitchen and her students
Teaching them both the techniques and recipes I have learned through the years being a chef. Using the ingredients readily in Japan I have come up with recipes that are both delicious and healthy.
So I hope you'll enjoy theses recipes as much as I have in introducing them to you.
Instagram
Return to recipe list