STEPS
Preheat the oven to 400 degrees F.
Cut all the vegetables into bite-sized pieces, and put everything except cherry tomatoes onto a parchment lined baking tray.
Drizzle olive oil and sprinkle salt. Toss to coat evenly with a spoon, then bake for 25 minutes.
Remove the baking tray from the oven, add cherry tomatoes and 'BULL-DOG' VEGETABLE & FRUIT SAUCE (TONKATSU SAUCE), and toss to coat. Bake for 10 minutes longer.
You can use Frozen Vegetables Mix -
You can use any colorful roasting vegetables-
If stir-frying, use everything in recipe amount, then add the sauce at the end of cooking process.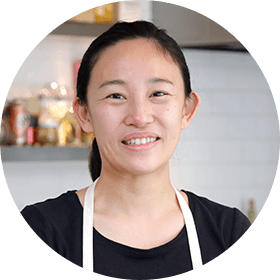 Sachi
Born in Tokyo and raised in the US, Sachi appreciates culinary contrast and balance between the two cultures. Currently ambitious to share her food journey through teaching American cooking to Tokyoites.
Instagram
Return to recipe list