INGREDIENTS
1 Tablespoon of butter
1 Tablespoon of olive oil
1 large chopped yellow onion
3 tins of chopped tomatoes (14.10 oz each)
3 Tablespoons of 'BULL-DOG' WORCESTERSHIRE SAUCE
1 vegetable bouillon cube (0.35 oz)
4-5 cups of water
2 teaspoons of sugar, or to taste
Salt and pepper to taste (about ½ teaspoon each)
½ cup of cream, with extra for topping
Basil (optional)
STEPS
Heat the oil and butter in a pan over a medium low heat. Add chopped onion and cook until soft.
Add tomatoes, 'BULL-DOG' WORCESTERSHIRE SAUCE, bouillon cube and water. Bring it to the boil, then cook on medium low heat for 30 minutes.
Blend the soup, then add sugar, salt and cream, season to taste.
Top the soup with cream, 'BULL-DOG' VEGETABLE & FRUIT SAUCE (TONKATSU SAUCE) and basil before serving.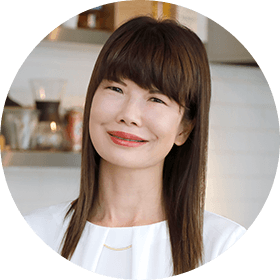 Shu-Hui Chang
Shu has been working as a cooking instructor in Tokyo and a caterer in New York City. Shu is French trained in the International Culinary Centre in New York City with working experience in Narcissa Restaurant at the Standard Hotel in New York City. So far, she has lived in the US, UK, Japan, and Taiwan.
She is excited to be in the Bull-Dog Sauce team to create healthy, simple, delicious classics and modern dishes with the amazing Japanese origin Bull-Dog sauces.
She hopes that you would be inspired to try Bull-Dog sauces on her recipes.
Instagram
Return to recipe list